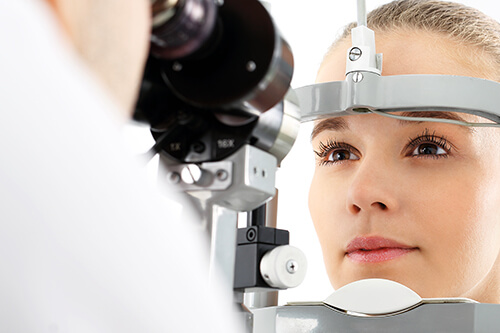 Making Your Vision Excellent is Our Number One Priority.
No matter what your eye care needs are, our eye doctors are qualified and skilled to handle your visual needs. Comprehensive eye care is provided for people who are nearsighted, farsighted, have astigmatism or presbyopia (as well as for those who may have an eye-related medical condition, need cataract surgery, or other forms of advanced surgical care).
Blending medical, surgical and consultative services with a spirit of compassion and service excellence, Pankratz Eye Institute offers state of the art technology and the most innovative procedures. The eye doctors and staff at Pankratz Eye Institute are dedicated to providing the highest quality care in meeting the personal needs of each patient. You can rest assured that you will get one of the most thorough eye care experiences you have ever had.
See What Our Eye Examinations Can Do for You!
For our patients in Columbus, Indiana and surrounding areas, having regular, comprehensive eye exams is highly recommended for preserving vision and finding vision correction solutions. Our comprehensive eye examination takes approximately 90 minutes to complete. Our eye exams include:
An extensive health history including a review of your current ocular and systemic medications
External and internal evaluation of the health of your eyes including dilation exams.
Evaluation for dry eyes, glaucoma, cataracts, macular degeneration, eye disease from diabetes, allergic, viral or bacterial conjunctivitis, blepharitis, and all other eye conditions and diseases.
Utilizing Modern Diagnostic Technology.
We are committed to staying abreast of the rapid changes in medicine implementing the newest therapies and surgical techniques. We strive to listen carefully to our patients and referring doctors so that we are always meeting and exceeding their expectations.
Early Detection Saves Lines.
If you have any issues with your eyes or vision, contact Pankratz Eye Institute for treatment, and experience our world class eye care. We utilize state-of-the art diagnostic equipment for early diagnosis and treatment of eye diseases. It all starts right here, right now with a simple eye exam that could potential save your vision. If you are diabetic, or have a family history of aging eye conditions do not hesitate to schedule an appointment.
Treating Many Eye Disorders.
Macular Degeneration
Diabetes & The Eye
Conjunctivitis
Dry Eyes
Refractive Error
Astigmatic Vision Correction
Blepharitis
Cataracts
Glaucoma
Our Medical Eyecare Providers