We utilize the newest, fastest, and safest Ziemer LDV Femtosecond Laser Technology… 20/20 Vision for qualified patients!
Get safe, fast, & completely CUSTOMIZED vision correction for life!
Our ophthalmology practice has selected the Ziemer Femto LDV Z4 technology platform for LASIK surgery. There have been an estimated five million plus assisted surgeries performed worldwide to date and that number is steadily growing.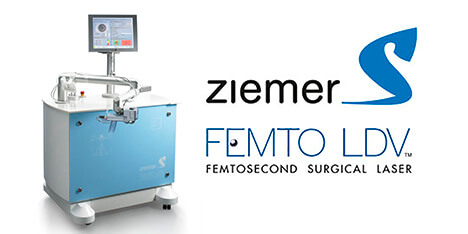 Advantages of Ziemer laser eye surgery include:
Femtosecond laser technology reduces the risk of flap complications associated with mechanical microkeratomes.
Reduces opaque bubble layers and inflammation. Ziemer's femtosecond lasers are designed to be gentle on the eyes delivering:

Precise low-energy pulses – an ultra-high repetition rate greater than 1 megahertz with a duration of 3/10,000 of a nanosecond.
Fast – a higher repetition rate, greater than 1 mHz creating incisions for a faster and cleaner surgery.
Overlapping spots – this unique continuous method of overlapping low-energy laser spots speeds up procedures, and eliminates tricky tissue bridges. Clean incisions minimize complications because tissue separates easily.

This enables a bladeless experience from start to finish. This is also referred to as ALL-LASIK LASIK.
Only topical anesthetics are required, leading to quick healing, less risk of infection and other complications, and no need for stitches.
Important patient information
Ziemer FEMTO LDV lasers are prescription medical devices that can only be used by accredited eye care professionals for LASIK and other approved surgical procedures. Only a trained eye care professional can determine if a FEMTO LDV laser procedure is appropriate for your condition. Talk to your doctor if you have a family history of keratoconus, glaucoma, other eye-related diseases, diabetes, a history of herpes simplex or herpes zoster keratitis, significant dry eye, severe allergies or have had changes in your vision over the past year.